---
Tungsten Carbide Dies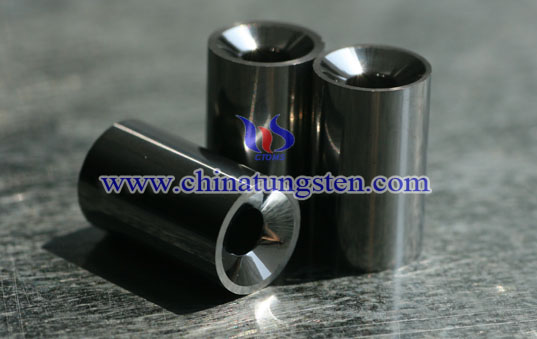 Tungsten carbide dies have performance between the tools and construction materials between ceramics and high-speed steel, has a overall performance of high hardness, high strength, high density, corrosion resistance, high temperature oxidation resistance and low coefficient of expansion. Its life expectancy is ten times or even several times over steel.
Tungsten carbide drawing dies usually refers to all kinds of wire drawing die, there are pull-mode optical fiber drawing. The center of all the drawing die hole has a certain shape, round, square, octagonal or other special shapes. Metal is pulled through the die hole size smaller, or even shape change.
Tungsten carbide extrusion dies are pushed during extrusion process, where a slug of material through the nozzle it is a cross-sectional area (based on the shape of the extrusion die). The extrusion process can be carried out at different temperatures (especially desired for the material and the mechanical properties) and for a variety of materials including steel, copper, aluminum, nickel, lead and tin.
Tungsten carbide punching dies mainly processing of bolts, nuts, steel wall nails, wood screws and rivets and other common parts in industrial production.Conventional bolt cold forming process can be divided into expected, upsetting head, accumulate, forming, gaining five steps. Stamping advantage are the high material utilization, metal consumption, high production efficiency, high degree of automation.
Tungsten carbide cold heading die raw material is produced by powder metallurgy composite materials, which have high hardness, wear resistance,life is several times and several hundred times than ordinary cold heading die.
Tungsten carbide wire drawing dies are made by the die core and die sets two parts, tungsten carbide wire drawing dies die core usually select tungsten carbide cobalt.
Tungsten carbide bar drawing dies is an essential tool for deformation processing, its shape and structure in order to improve production efficiency and product quality. In the metal products industry, tungsten carbide bar drawing dies related to product quality, die life, production efficiency, energy consumption and costs.ect.
Tungsten carbide tube drawing dies as useful materials must have sufficient strength and wear resistance. Most of the die blanks of tungsten carbide tube drawing dies are basically of WC-Co type carbide. WC-Co type carbide is a very hard element (tungsten carbide) is sandwiched between the relatively soft substrate (cobalt) layer. Carbide, the most important element is tungsten carbide.
Tungsten carbide peeling dies are made from highly purified tungsten carbides and they are well appreciated for their durability and wear resistance. The special design of the inner hole of our carbide shaving die makes the stress release more effective. The materials to be peeled include steel alloys, aluminum alloys and copper alloys.
Tungsten carbide rectangle drawing die is a carbide die with a rectangular hole. It is used to draw non-ferrous metal rectangular pellets. We provide a range of drawing dies in different configurations for your choice. With our own factory, our company is also able to produce custom carbide drawing dies within a short time.
Tungsten carbide universal die is a kind of tungsten carbide mould used to remove surface defects that occur in the drawing process. This tungsten carbide blank is a high quality, long-life die that is cost effective and can speed up your work. It is made from high quality tungsten carbide thus its durability and wear resistance is ensured.
Enquiry & Order